I have been away on my own little sewing retreat this week. Not officially but it is how I billed it for myself.
I have been staying at my friend Suzy's place at the beach at Yeppoon whilst she is away at Presbytery and then at a minister's retreat. I have been cat sitting the magnificent Patrick for her. When Suzy went away a couple of months ago she put Patrick at a cattery and he escaped and was missing for 12 long days. This was really tough on Suzy and everyone who is her friend because we know how special Patrick is to her. It was a real blessing that eventually he was recaptured not far from where he escaped. I was with her when she got the news that he was found - such a special place to be.
Anyway - I have had to suffer here at the beach for 5 days :) although I am going home today.
I went for a walk on Sunday in Emu Park including visiting the Singing Ship and the New Commemorative Walkway.
I put this one in so you wouldn't get too jealous just to show you we did get some less than sunny weather... but it was only sea mist and only lasted 10 minutes
I tried to find a link to information on the Commemorative Walkway but it is so new (only opened this year for Centenary of Anzac) that there isn't much on official pages.This was about the best I could come up with
Accomplished
Zipper Pouches. I sewed 10 of these little pouches (See my stash report here for more details) I was so pleased with how they have turned out although must admit I am still looking for the split rings to thread onto the tabs
I also sewed a biigger boxy pouch. I got the dimensions a bit wrong and it looks a bit weird. I haven't photographed it yet so stay tuned... perhaps in the stash report.
Going Green. I cut rectangles from green fabric and white squares to work on the border for the quilt. I calculated that I would need 118 flying geese which is 236 squares. I've managed to get them all done over a couple of days. Last night I was sewing downstairs and watching tv upstairs. I'd dash down stairs in the ad breaks and sew then go back upstairs when the show came back on and snip and press the completed sides. I trimmed the excess fabric off from behind the flying geese having sewn an extra seam first meaning I had little hst. Tonight my friend Suzy was back home and we watched tv together. I'd finished stitching the blocks earlier this afternoon so just had the final snipping and pressing to do... so no crazy stair climbing in the breaks. (I am sure Suzy and Patrick were both relieved)
The finished flying geese... doesn't look much but there are 118 of them!


The ziplock bag full of the little hsts. I will find a way to incorporate them into the quilt too I am sure. I can feel another border coming on... perhaps a bunch of little pinwheels. I love pinwheels
Pink Pizzazz I bought the borders with me. I had made them last week at Patchwork group. Usually I only work on them up at the patchwork rooms - its my Wednesday project but knowing I would be away this week I bought it home to get it finished.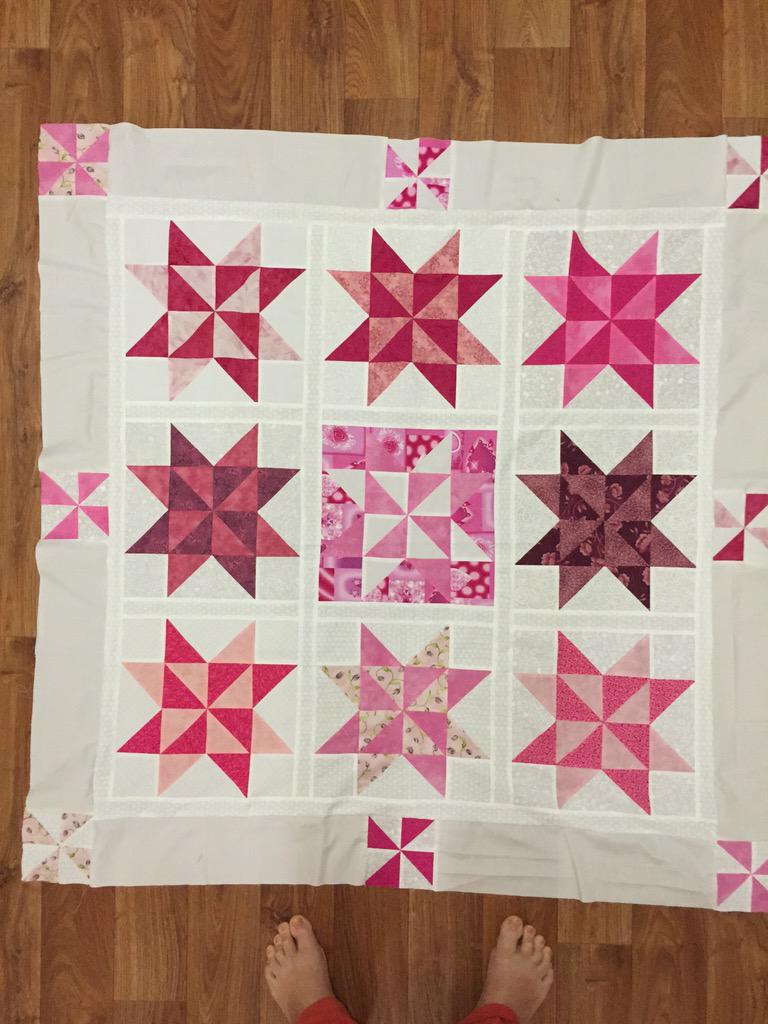 The borders seem to be a bit wavy in the photo. I'll have to check that out when I get home. Don't you love my feet in this one :)
I am feeling frustrated because I had planned to bring my Amy Gibson BOM project with me to work on but left the box at home with all the fabric in it. I also planned to work on a bag I want to make as a birthday gift for a friend but forgot the fabric for that too. Its all neatly packed up ready to bring on the cutting table at home. Grrrrr
I also got to hang out with 2 lots of lovely quilting friends. On Monday I caught up with 3 friends from Patch n Peace. I showed them Crop Circles and they were delighted to see it. They especially loved the quilting done by my friend Kym.
Tuesday I caught up with another friend who used to live in my town but has moved to Yeppoon. It was great
The impetus behind me staying on for these extra days was that I had an appointment to see a specialist today about a small lesion on my cheek. The surgeon thinks it is nothing really but given that it has changed size over the last 6 months - growing then getting smaller - so small now its ridiculous - he has suggested I get it taken off and I have agreed. So I'll be back next month and I can do it all again!!!
Linking up with