I've just joined Bonnie Hunters Facebook group Quiltville's Open Studio. She is a prolific poster (and sometimes she posts twice cause she must have her instagram account linked and so what she puts there also comes across to Facebook)
She has put up several links to several free scrappy quilt patterns from other bloggers/designers. I enjoyed checking them out and have downloaded the patterns to my one day file. Some of the downloading was easy... there was that option offered. But for others I copied and pasted the patterns to a word document and saved it that way. I have included the designer and the website where I got it from in the document. Gotta give the credit to where it is due.
I was itching to get started on one of them immediately and chose
this
is the one I do first. Its from Little Miss Shabby
I like the on point setting
Her pattern used 2.5" or 2x1.5" squares. After "Playing in Sunshine" I didn't have many 2.5" squares left so decided to do it in 2" squares. That meant the white squares were 3.5" square instead. I decided to feature green squares (just like in Playing in Sunshine I featured yellow squares) and this meant that one in almost every pair of squares was a green or had green in it. I say just about cause I didn't decide to feature green till I had already sewn 20 or so.
Because the squares I am using are smaller than the pattern the overall quilt is going to be smaller so I decided to add another row and because its on the diagonal this actually meant 2 rows... It meant that instead of 18 blocks I needed 32 blocks. Because I wanted the green to dominate the quilt I had to cut a few more green squares from my 2" strips but apart from that the squares came from my stash. I avoided using blue squares because I hope to make a quilt featuring the blue squares some time. I didn't use white or cream either as I was using white for the bigger squares.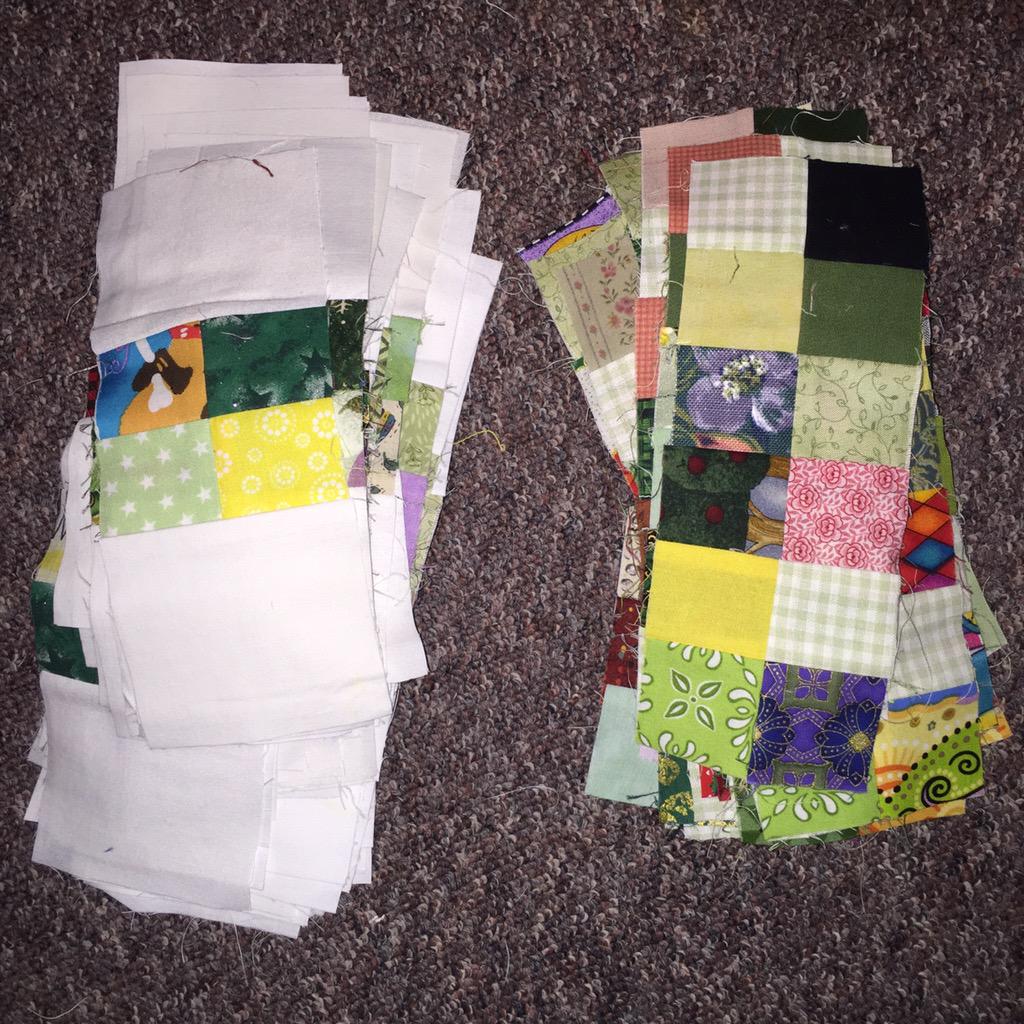 Ready to assemble I had to put a white squared strip either side of the 3 x four patch strips. Its a bit embarrassing to admit that I had to unpick a few cause I put the 4 patch strips either side of a white square strip... In one case I unpicked the mistake only to sew it straight back on incorrectly again. Grr.
Looking at the pattern I have been working out how I could have sewn it in strips. Instead of having lots of 3.5" white squares that end up as 6" squares when the blocks are sewn together I could have cut 6.5" white squares and assembled the quilt as one big block - sewing the 2" squares into strips of the required length ie 9 pairs, 27 pairs, 45 pairs etc plus lots of 4 pairs and put the thing together in stips... not sure if I am making sense but I know what I mean. I think I made my 2nd quilt something like that... oh so many years ago!
As of tonight I have all the blocks assembled and on my design wall. I still have to cut out the set in triangles. At the moment I am calling this quilt Going Green