Another weeks seems to have gone whizzing by. I have been dipping in and out of various projects.
On the home front I have studiously ignored Playing in the Sunshine. Its pinned ready to quilt but I am avoiding it. So much so that I even started a new top. I blogged about it yesterday in "Going Green" I was showing my husband the quilt last night as it was on my design wall. While he'd been out I had cut the set in triangles to complete the on point design. "Aren't you taking the four patches all the way through" he asked. I had made it according to the pattern but his comment prompted me to have another look and think and I decided I really liked his idea. It did mean I had to make another 32 four patches, which also meant I had to cut a few more 2" squares in order to keep the green overtones going through to the edge. It also means I have to cut more white squares..
I was able to cut all the squares from the white triangles and some of the set in triangles. I didn't take the squares right to the edge of the quilt but like the bit of extra that I did do.
I was at Handmade Love yesterday and gave them the hanging towels I had made... well all but the 2 that still need press studs. I ran out, bought some more but do you think I can find the packet with 2 cards of press studs in it. Aggravating. I had planned to finish them off whilst we were gathered together but instead I sewed a casserole carrier. It was so easy that I got it done in a morning.
Came home and then in the afternoon made a boxy zipper pouch for the stall we are having in 2 weeks as well. I am hoping to get a few more pouches made this week. I used a new pattern I found via Pinterest but to be honest if I hadn't know what I was doing I would have been in a bit of trouble. It wasn't really a beginner pattern. I am not sure about the two loops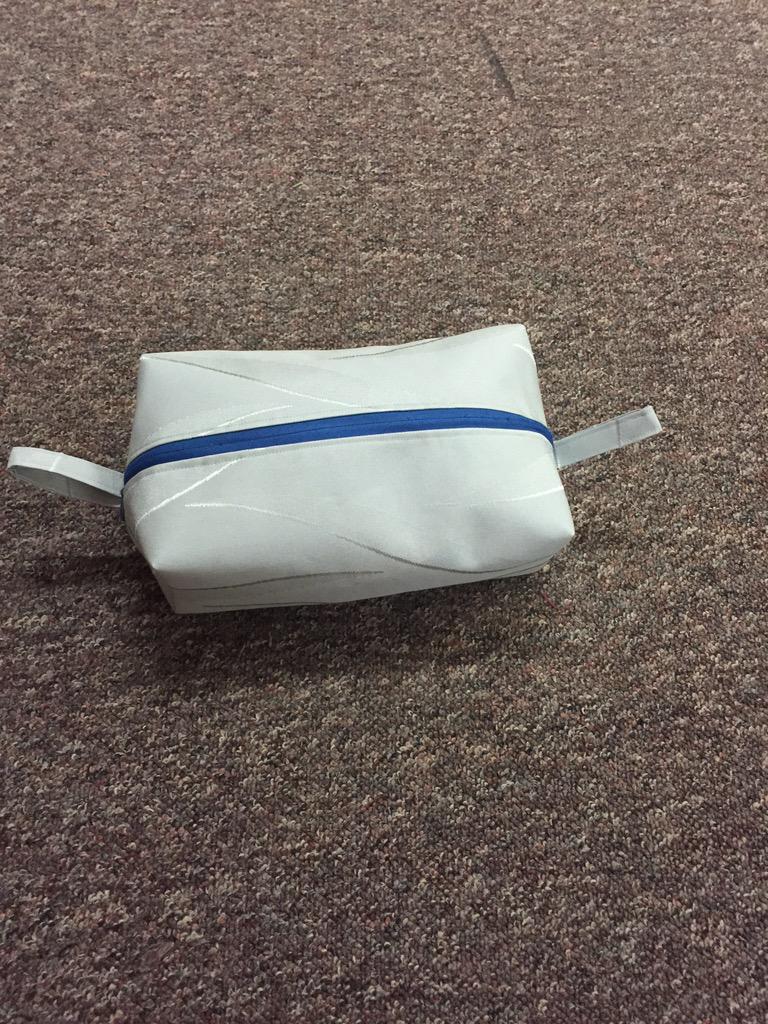 Today at Patchwork group I worked on putting our latest community quilt together. I got the 9 centre squares together in a nine patch arrangement with white 1.5" finished sashing in between each block and around the outside. I have the borders made but not attached. These are also white - 5" borders with a pinwheel in each corner and in the centre of each side. It will only be 50" square to finish so might have to add something more to it. Thinking I will call it Pink Pizzazz. Or maybe Pink Pinwheels... all my quilts have to have a name.
I am going away for a few days to the coast to mind a cat I am very fond of. Its a rather long story and has lots of changes and ups and downs. Originally I was going to be away with my husband for 5 days but through various commitments we both have we are both going to be away but we are travelling separately and he is going to be gone Friday to Sunday and I am going to be away Saturday to Wednesday. I have a doctors appointment on the Tuesday with a specialist but that is my only commitment aside from feeding Patrick the Cat. I am going to be meeting up with some quilting friends for morning tea and lunch whilst I am there but the rest of the time I am free to do my own thing and that means.... lots of sewing time.
I am starting to organise various projects to take away with me. So far I have
Pink Pizzazz with the borders to be attached and backing fabric bits that could be put together

Going Green - attach the set in triangles and then sew rows together

Birthday bag for a friend to be made

Heart blocks to be made

Zipper Pouches for Handmade Love stall to be made
I don't think I am going to be bored. Nor am I likely to get everything done but I can have a red hot go at it!!