Since my big finish last week (Jean's Jeans is done whoot again... sorry will stop it soon) I have been working away when I have had the chance on making the borders for Vanishing Hours, my Disappearing Pinwheel quilt from Missouri Star Quilt Company here I didn't bring the top with me on this trip but I did have the measurements of the blocks put together so I could make the borders... only for some reason I deleted the note off my phone when I was cleaning up one day. I don't know why I did it. But I did. So I have been mentally calculating how big I think it is (or it will be. Do you know I can't even remember if I have put the blocks together... I don't think I have... but maybe I did...)
I bought all the leftover scraps from the blocks with me the big and the small pieces so I could work on the borders. Firstly I made the piano key borders. I decided that they would be 5" wide. I cut my scraps... well some of them anyway ... into strips varying between 2" and 1" and sewed them together then cross cut them into 5 " strips and ended up with 4 long strips of piano keys totalling 330". I made each strip 70-80"plus a 5th that I can add to any strip to make longer. So... piano key done (I hope)
I also wanted to do an hour glass border. I like to feature the block that was "disappeared" in the border if I can (well that is what I did with my Disappearing Pinwheel) so started to make those whilst camped at Duck Point. I was able to cut 51 5" squares from my remaining green scraps and when I did the calculations I think I am going to need 52 so that is pretty good. I have more green fabric at home. I was able to cut 20 x 5"cream squares also so am going to need to buy about 25" of cream tone on tone at some point on this trip. Actually I am visiting a quilting friend when I am in Adelaide so might be able to scrounge a 5" square from her if I need to.
I have done a little hand sewing on Teashop Quilt but not much. We did visit a little teashop in a small town we came through when travelling from Duck Point to Melbourne. We had the most enormous scones with a bucket (It seemed) of jam and cream. Pretty good.
My other major project here in Melbourne has been curtains. Massage Man, our oldest son whom we are visiting here in Melbourne has recently moved into a new flat with his cousin Peter(whom I keep calling Pete, which he doesn't like but lets me get away with it... but I should stop it if he doesn't like it... if only I could remember) and so I have been making a few curtains for him. Not the most exciting sewing but I am pleased to be able to do something for him whilst we are here.
He chose the fabric by instant messaging. I photographed some and sent them to him. He chose the green
Sewing them has been a bit of a challenge. We had to take one of our folding tables with us to his flat as he has no tables. Getting curtain rail up was a challenge for Fixit Guy but he managed it. Then whilst I sewed the second curtain, FG and later our son, put the hooks on, drew the cords in and hung the first one. I have the second one ready for their attention now but still have two more to get sewn. Hopefully will manage to get them done this evening when we are over there as we leave town tomorrow. They might not get hemmed!! I'll add more photos when I get them this afternoon.
So... what have you been working on this week
Linking up with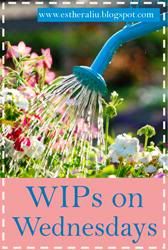 and