Hey everyone
I've been rather quite this week. I went away on Thursday right after I wrote my last WIP post. I was away all weekend and rather busy with limited internet access and it wasn't really appropriate for me to be on the net anyway. We didn't get home till very late on Sunday night and we were really wiped. We slept in all morning and didn't do much at all the rest of the day.
Tuesday wasn't a lot better. Wednesday I got to my patchwork group in the morning and then in the afternoon I had some surgery on my shoulder. Nothing major. I had a lipoma cut off my shoulder... a lipoma is a fatty cyst. It was a fairly straight forward procedure and hasn't been as painful in the recovery as I thought but it has knocked me about far more than I expected. I was left feeling rather queasy afterwards and I have taken it really easy since. Being awake for the procedure meant I didn't have any residual anaesthetic in my system. But I did feel the pulling and pushing and the memory of the smell and sound left me feeling a bit off.
So I've been a bit out of it today too.
So I haven't actually got on with a whole heap done this week.
I was able to do some knitting whilst I was in the car and while home in bed. I finished off beanies for Beast and Kombi Boy as well as two rainbow themed ones for friends involved with Emmaus.
On Tuesday I got a parcel. My quilts I had sent to the long armer arrived back. I have trimmed the excess off and now have to make the binding for them. I had thought I would have them done by now but my lethargy has taken all my enthusiasm... and I thought I should let my shoulder heal a little first.
Yesterday at patchwork I finished off Newspaper Mumma, the red, white and black themed quilt made from BOM our quilt group did at the beginning of the year. I was just a bit short of the red I wanted and so had to patch in some white which is a bit of a shame... bit disappointed in that but on the whole it looks good. The finished quilt will be donated to a charity of some kind. I still have to make up a backing. I could buy some backing fabric and the group would pay for it but if I can make it from my stash I am happy to donate it. I donated the half square triangles that make up most of the border and the red fabric used in it as well.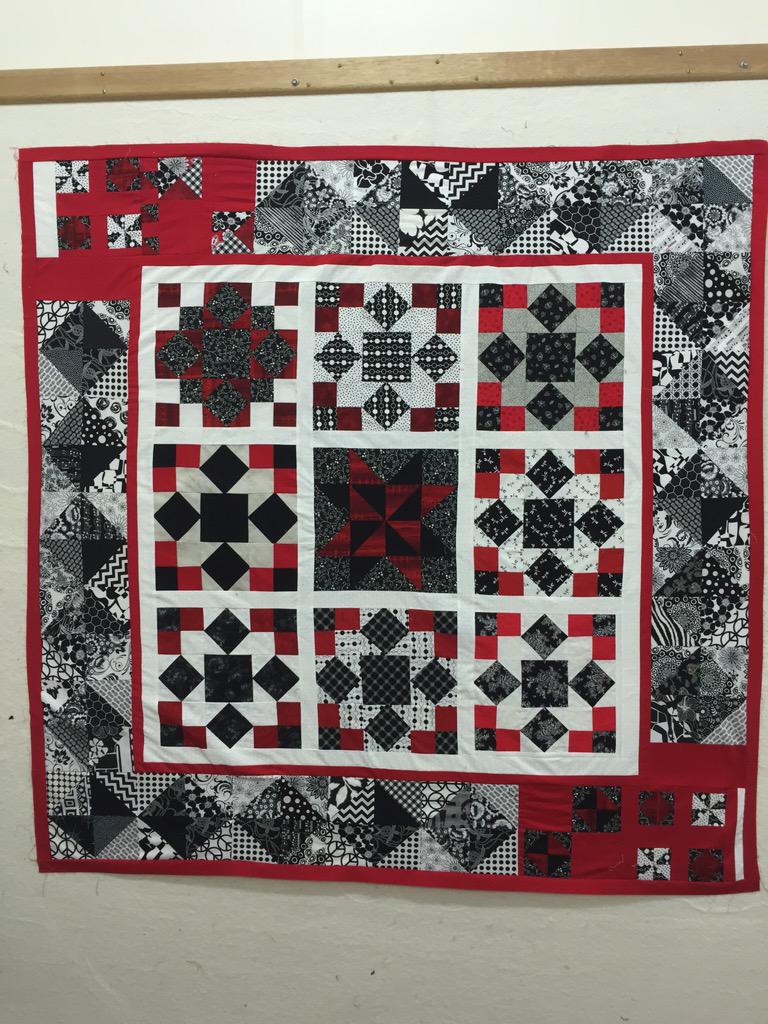 I now have 2 POD blocks to do. The new one was released last night. Sigh. Hopefully I'll get my oomph back this weekend and I'll get it all done.