I made 10 more little zipper bag this week. Yup 10 of the little suckers. I used the pattern I linked to last week. Well I based it on that pattern but made them a bit bigger so as to use as much of the 5" charm square as I could. Problem with that was that I didn't have enough left over for the little tab so made it out of either another charm square of the same or coordinating fabric. (I only had charm squares with me. Otherwise I could have used some of my 2.5" bits and pieces) Used .60m
I also made a zipper pouch using some cat fabric. I used some plastic backed curtain fabric for the lining. It worked pretty well and I didn't need any batting or stiffening to give the bag structure. Problem I had was the dimensions I used for the bag. The initial pieces were square and so the bag is a bit of an odd shape for a bag. Still hope someone likes it enough to buy from our stall this weekend. I didn't take a photo of it ... oops. Used .2m
Playing In Sunshine. I finally got this finished today. It was quite an effort. Everything went wrong that could go wrong. I think my machine needs a service. I had all sorts of tension issues and it was one of my most frustrating experiences but I finally got it finished.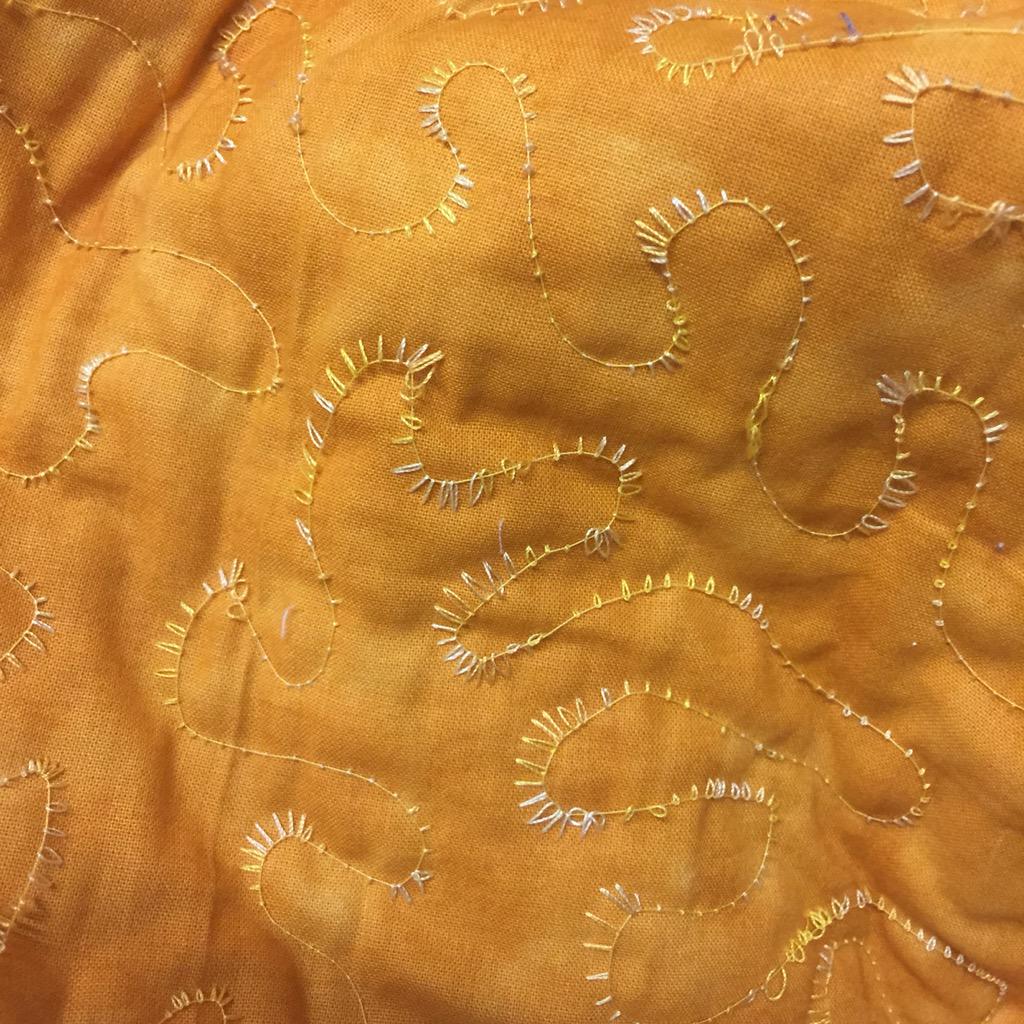 To make it that much more frustrating I was running low on thread so when unpicking the messes such as this I had to carefully roll up the top thread and put it onto bobbins so I could use it again. I did have some sulky thread that I had started using which kept breaking so I had stopped using it but in the end had to resort to it again. I found that winding it from the spool to bobbins and then using the wound bobbins in the top gave a much better result with almost no breakages. As well as thread breaking and the eyelashing and the running low on thread I also broke a needle AND stitched on my super slider.
The quilting isn't all that great BUT it is done. I haven't quilted a big quilt myself for quite some time (2mx2.27 or approx 80"x90") and maybe I have just forgotten what it is like. I did get to use my new quilting gear - machinger gloves, supreme slider, bobbin washer and quilting ring... from a Massdrop bundle I bought a few months ago. They were all great ... although added to my frustration a bit when I had to keep checking my bobbin etc... taking off the gloves and then having to remove the slider to get to the bobbin case.
Anyway despite all the frustrations I finally got it done and its big size meant 10.36m of fabric used.
My cat Pippin showed lots of interest in this quilt. He hasn't been as interested in my quilting for a long time
I shot a video of him demanding lots of petting at one point. I even put it on facebook but the quality is pretty crap and some how I changed to slow mo during the shooting... no idea how so its pretty crumby... but cute at the time.
I have also been super busy making birthday gifts for a friend. I can't reveal what they are just yet. I don't think she reads my blog at all but she is my facebook friend and my blog alerts go on facebook and twitter so she might decide to take a peak. There were a number of items and together they used 3.21m of fabric
I have had a few purchases this week whilst in Rocky. I visited a new LQS - well new for me although I think its been there a while. They had a great deal on some batik fat quarters and I ended up with 6 - it was 6 for $20 and in Australia that is a good bargain. I bought 4 dark ones - navy blue for a swap at PnP next year. I got 2 for the projects I made for the birthday. I got some more special fabric for these projects at Spotlight too... a metre of it. I am pleased to say that I used just about all of it up. I have a few little bits left over of the 3 fabrics and if I can think of something suitable I will try to use them up in the next few days too.
So this weeks stats are
Week 31

Fabric Used 14.37m
Fabric Added 2.57 m

Year To Date
Fabric Used 112.11m
Fabric Added 39.21m
Net Used/Added 72.91m
Linking up with Judy at Patchwork Times