Running late seems to be the order of my week!
Its Saturday and I didn't get my fitness update written yesterday which was busy for many reasons.
After 34.5 years of working for the same company, the big Australian as it is referred to (BHP) and its subsidiaries my DH, my beloved Fixit Guy retired. It was a forced retirement in that 8 weeks ago he was notified that he was being made redundant but that was ok for us. We were looking at retiring next year anyway so this way it comes with a very lucrative payout or Golden Handshake as it is referred to.
We've been married for 32 of those years (well we will have been in another 12 days) and for 31 years he has been working at a mine that has meant very early starts for him (but not me) He would get up on his own and have his breakfast and just before he left for work he would make me a cup of tea and leave it beside my bed in a thermos cup so it would stay warm for me for when I awoke. We were trying to work out exactly when he started doing this... seems like forever. So Friday I woke up to say goodbye to him on his last day of going to work. I took a photo of my last pre work cuppa from him. For some reason he says he won't be getting up to come for an early walk with me and my girl friend 3 times a week. I don't blame him at all. I said I'd bring him a cuppa when I got back (I don't leave myself enough time to make a cuppa before going for my walk)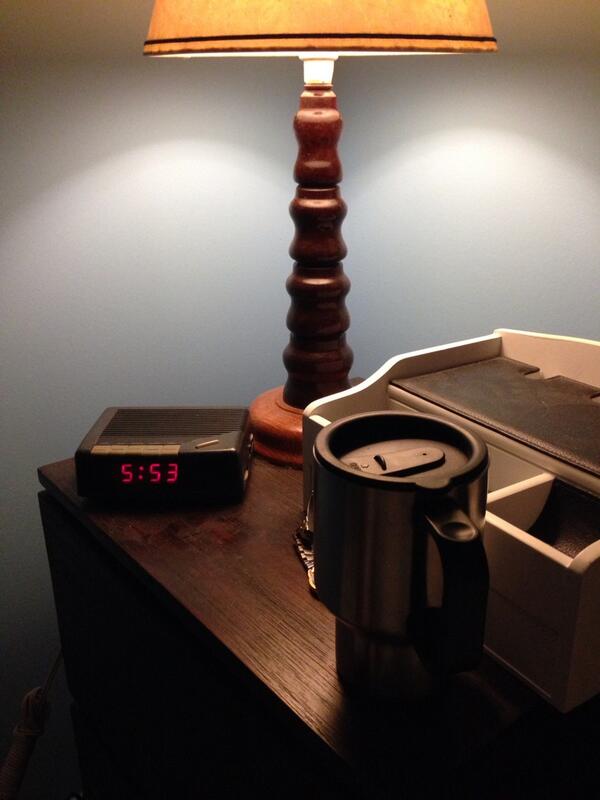 This week I have managed to walk 3 times with my friend Maree, and run twice as well. On Thursday I pushed myself and ran 5 km for the first time in several months. I kept my speed up (for me) and did it in 38 mins averaging just over 7min 30 secs per km.
I managed to get my 10 000 steps most days this week. Missed it today and yesterdar but got 17 000 one day so that was good
Eating wise ... well not been brilliant but my weight is still under 88kgs so haven't paid for it too dearly. Of course I shot myself in the foot so to speak by cooking some scones - white choc and apricot ones. They were very yummy. I made them for morning tea at Patchwork when we had some visiting patchworkers.
There is a story behind the scones. Last year when I was in the UK visiting Fangirl (who lived there for a couple of years) we had a driving holiday around Scotland in a Wicked Van. We stopped for morning tea each day as part of our fun and at one point we stopped in a little craft centre called Milton Creagh. We had our first cream tea there (In Australia we refer to them as Devonshire Teas ie scones and jam and cream) They had regular scones ie plain ones and sultana scones but they also had a daily special scones and the day we were there they were apricot and white chocolate scones. We happened to be seated near a local woman who was there with an elderly gentleman, probably as a day carer. Anyway she had visited the place frequently and talked loudly and at length about everything such that we couldn't help but overhear. She went on about Mary, the lady who made the scones and how nobody made scones like Mary. She made Fangirl and I giggle and for the rest of the holiday all scones were compared to Mary's. They were excellent scones.
Since I hadn't asked the redoubtable Mary for her recipe when I wanted to make them myself I had to invent a recipe. I am happy to share it with you here. No photos though... I didn't think about it at the time. The measurements are also best guess. I just make scones and add stuff till they look right. Sorry. At least it will give you an idea. Having found my photo I have just discovered that hers had cinnamon in them too... ah well next time
Not Quite Mary's White Choc and Apricot Scones
3 cups SR Flour
1/2 cup sugar
200-300 gms sour cream
1/2 cup white choc chips
1/2 cup chopped dried apricots
Sift flour and sugar together into a large bowl
Add apricots and choc chips
Add sour cream about 1/3 at a time and mix in lightly with a knife. Add more till it all sticks together in a ball. You can use a spoon or your hands towards the end. You want all the dry ingredients to be incorporated but not too wet. You are going to have to flatten it out. Add a bit of flour if its too hard to work into a ball
Sprinkle some flour on the work surface and place the ball of dough on it. Press it out gently with your fingers. (You can use a rolling pin if you want to. I don't bother) Press or roll till its 3/4" - 1 " thick. Cut into rounds with a scone cutter or a glass. Dip cutter into flour to stop dough sticking.
Place onto a greased biscuit slide. (cookie tray) Put the rounds so they are touching each other. This way they support each other as they rise. Alternatively instead of using a cutter you can place the ball of dough directly onto the grease tray, press out and then use a knife to cut into squares (like you were cutting up a slice) My mum always made her scones this way. They aren't as elegant as using a cutter but its quicker to make and you get to decide the size of the scone.
my scones
Bake in a hot oven (180 degrees Celsius) for 10-15 mins, until they have risen and cooked. I tap mine and when they make a hollow sound they are done. Some authorities say scones should be pale in colour- not brown but I don't worry about that. (and Mary didn't either.)
Eating Mary's scones set the tone of the rest of our visit to Scotland and England. If we were going to have morning tea out we would have the cream tea and would compare the scones to Mary's. It has become a tradition that we have continued in Australia. Fangirl came over to try the ones I cooked and gave it a Mary rating. I think she said they were "Almost as good as...." so that is a high recommendation.