Hip to be a Square is one of my favourite podcasts.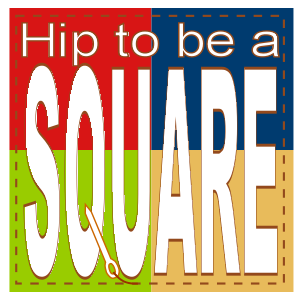 It is another one that when I started listening to it I went back to the beginning and listened right the way through. The good thing about Pam, the head Rhombus (ie the podcaster) is that she is super regular. She posts a new podcast every week (well she did up till just recently. She now also produces a monthly vidcast and so the week that is released she doesn't do a podcast)
It was great to be able to be guaranteed a quilty fix via podcast. She also thanks her commenters and responds on air to questions and comments left (such a thrill to hear my name on the air.. small things amuse me).
Pam is super productive so always has things to talk about. She has been a real inspiration to me in many ways. Because of her blog and podcast I got onto WIP Wednesday (Work in progress, where you blog about quilty projects on the go - there are a few linky parties each week on various blogs) and Sunday Stash Report. (blogging about fabric purchased and used) She also developed a spreadsheet on which to record said purchases and usage, including a formula to calculate how much fabric is used in a quilt. She willingly shared these with her listeners and readers. I used her formula for my stash recording. (My 2 FGs ie Fixit Guy and Fangirl further refined the spreadsheet for my use... love having nerdy family who can do this stuff)
Hip to be a Square podcast is available to download from iTunes and Pam's blog
The other string to Pam's bow is the video show she produces with her friend Lynn.
Called The Stitch, it comes out monthly and is always well worth a watch (or a listen as the audio part of the show is released on Pam's Hip to be a Square podcast) Its always fun, lively, lots of chat, laughter, tips and projects to share. Find out all about it on the website The Stitch TV Show