I'm feeling really really frustrated. Last night... very late I wrote my WIP Wednesday on my iPhone as I lay in bed. I should have been trying to go to sleep but no... I wrote the post and something went wrong as I posted it and I lost the lot. Needless to say at 11.15 pm I didn't try again!
It was a really good post. It was witty and succinct and sob this is going to just be a poor imitation of what might have been (Hope you can hear the violins)
My hand pieced hexie quilt has absorbed most of my sewing time this week. I did work on the backing for the first of my Diamond Dash quilts... now called Dash That Cat ( I was going with Dash the Cat but think this sounds better). I got it done. Now have to get it pinned and quilted. I had planned to pin yesterday at Patchwork Group but I didn't go as I was asked to babysit a gorgeous 2 year old and figured I was better off staying at her place than trying to take her out.
I also tried to start work on a baby quilt. I got as far as getting the fabric out and cutting up some of the panels. I left the work space temporarily to check the words of the story (Its The Very Hungry Caterpillar) and some intervention arrived
and so I left it and spent the rest of the evening hand piecing on the Hexie quilt.
I have made good progress on the hexie quilt. The centre piece is finished. Its about half the length of the quilt and the full width.
Now I am working on the bottom quarter. I am working it as one strip. I got the line of pieces to match the centre piece completed but didn't attach it Instead I have it pinned to the top of my design wall and am working on that. I chunk a few bits together and then stitch those bigger chunks together and will eventually attach them to the strip that will go on the centre chunk.
My take along project at the moment are hexies that will go at the top of the quilt - the clouds and sky. They are not flower shaped! I am piecing white and cream pieces together for the clouds at the moment. I took photos of my paper plan and am working off that whilst I am away from the house...
like today when I once again will be babysitting the gorgeous Teesh. Unlike my daughters cats she is not the slightest bit interested in my hand sewing and happily colours in, plays in her sandpit or models my hat whilst I stitch away.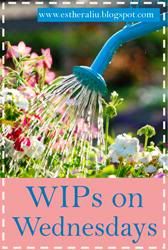 http://www.estheraliu.blogspot.co.uk/