For a crafter who enjoys the internet P was challenging. Not because it was too hard to find something suitable but because I was spoiled for choice. I've gone with Podcasts but Pinterest was also up there along with Patchwork sites
Podcasts
I love podcasts. I listen to a mix of them but do have a heap of crafting ones I love. One of the first I started to listen to was called Craftsanity. Jennifer Ackerman Hayward was a journalist who loved to craft. She interviewed other crafters in an reasonably indepth way (the podcasts were usually over an hour long) She covered a wide range of crafts - weaving, crotchet, knitting, quilting, paper crafts, soap makers and on and on it went. I loved them and listened to all her back catalogue before eventually catching up with her and then being in the inglorious position of having to WAIT for the next episode to come out. I enjoyed not only the crafty content but the personal updates that Jennifer supplied us with - her journey through weight loss and into running, stories about her kids, the precariousness of employment in the print industry which eventually saw Jennifer's position at the
newspaper scaled back to contributor and then no position at all. She went into a hiatus for a few years but recently resumed podcasting again but this time its just the interviews... there are no personal titbits and to be honest... I don't like it anywhere near as much. Through Craftsanity I discovered other podcasters that I started to listen to as well. Many of the original ones have also stopped recording. Its a big commitment to record edit upload write show notes etc and sometimes people run out of things to say.
Currently my favourites are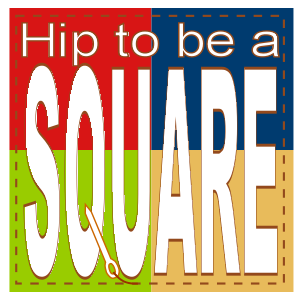 ,
Off Kilter Quilt
and
The Slightly Mad Quilt Lady
Charlotte, the slightly mad quilt lady is special to me cause she is from New Zealand and is the only non North American quilting podcaster that I listen to. Its lovely to hear the different accent and someone whose heritage is not too distant to my own.
(They don't have a buttons I can grab so it has to be just their names)
The women who record these have become friends - I comment on their stuff and they occasionally come back and comment on my blog and we interact on Twitter. I enjoy the ones that tell me about their home life and adventures as well as their crafting exploits. I guess I am just a nosey parker really. It means I feel that they are friends (even if I am just one of their 1000 listeners)
Some other crafting ones I listen to and enjoy are
These are both interview style podcasts. The hosts interview a range of guests from the quilting and sewing world. Stephanie who hosts the first of these is a stay at home mum (or mom since she is American) and incorporates lots of snippets from home. Pat Sloan is a professional quilter and her podcasts focus for the most part on the interviewee. It has adds through it and these are a bit annoying because they rarely change. They are the same ones every week (including the tips ones... same tip every week)
The two hosts of this podcasts, Amy and April, are both professional quilters in that they make their living (or supplement the family income at least) from their quilting activities. They are both pattern and fabric designers and have both written books for the quilting world. As well as talking about their work and their families (I do like a bit of the personal in the podcast.. keeps me connected) they often have a topic which they discuss and contribute ideas eg sewing for babies, how to prepare you quilt to be professionally quilted.
There are a number of other crafty podcasts which I am subscribed to but their podcasting schedule seems to be all over the place and some haven't posted for a long time. Sewing mom Podcast has a list of them here so if you would like to check out some more then I suggest that you go there.
NON Quilty crafty podcasts.
Thank God Its Friday or TGIF. A weekly show broadcast by ABC Sydney radio its a panel show where the host asks the guests, 3 comedians usually, a series of questions based on news items.
Friday Night Comedy - BBC Radio 4 - again a weekly panel style show based on the weeks news. This time its English and as a result of listening to it I know far more about what is going on in Britain than I would otherwise. The panelists are clever and witty and its more about being entertaining and amusing than telling the truth
Conversations with Richard Fidler - ABC Australia - The host interviews a wide ranging array of people from all walks of life. Some are famous politicians or actors, others are ordinary people who have had extraordinary things happen to them. Some are amusing, others informative, heart wrenching or challenging.
Stuff You Missed in History Class - this is heaps of fun and gives information about a huge range of topics. They are probably far more familiar to American listeners but they do venture out into the big wide world and discuss a wide range of historical happenings, most of which are off the beaten track. This show also has paid advertising on it but the two hosts do them themselves and make them as fun as possible and I have to admit.. I use the skip forward 15 secs several times to go over them. Most of the ads offer incentives and discounts to listeners to the show but most aren't applicable to me since I live outside the USA.
I'm fairly new to this podcast but that is ok as the podcast itself is pretty new. Its an agony column on the internet. It has two hosts and they chat easily and comfortably. Their advice is rarely earth shattering stuff but it is insightful and they have an easy quality to their conversations which makes it pleasant to listen to
The Moth
This is a podcast of true stories told live without notes. The story tellers are sometimes famous raconteurs and comedians who are used to telling stories but as often as not they are regular people with something to say who have been help to craft their stories into compelling presentation. The themes are wide and varied. I find them interesting and challenging. I was delighted to come across one that was taped at a Sydney event. That made it extra special for me.
I have others on my download list. But I don't always listen to them. They are all available on iTunes and I listen to them on my iPhone often whilst walking but also whilst doing house work, sewing, driving in the car and whilst going to sleep at night