This week
Made my postcard for the Fall Postcard Swap run by Sandy@ QuiltCabanaPatterns. I got it made yesterday and then did a bit of extra tweaking on it this morning. No pictures though until my postcard partner receives it. I posted it to Nonnie, my swap partner today so she should have it in a week or so and when she lets me know she's received it then I will post photos here. Got to keep the surprise. I also made two cloths
Vanishing Hours Disappearing Hourglass.
I posted two photos of my blocks on a Facebook group I belong to. In one I had arranged the blocks without sashing and in the second I had left a space so the cream of the design wall's wadding would show through to mimic the sashing. I asked for opinions as to which one to go for. I have received heaps of comments and people are reasonably evenly divided as to which they prefer. Some people were quite strong in their opinion and offered other comments as to what I should and shouldn't do which amused me somewhat.
Then someone on Facebook suggested this arrangement (which apparently is on Missouri Star)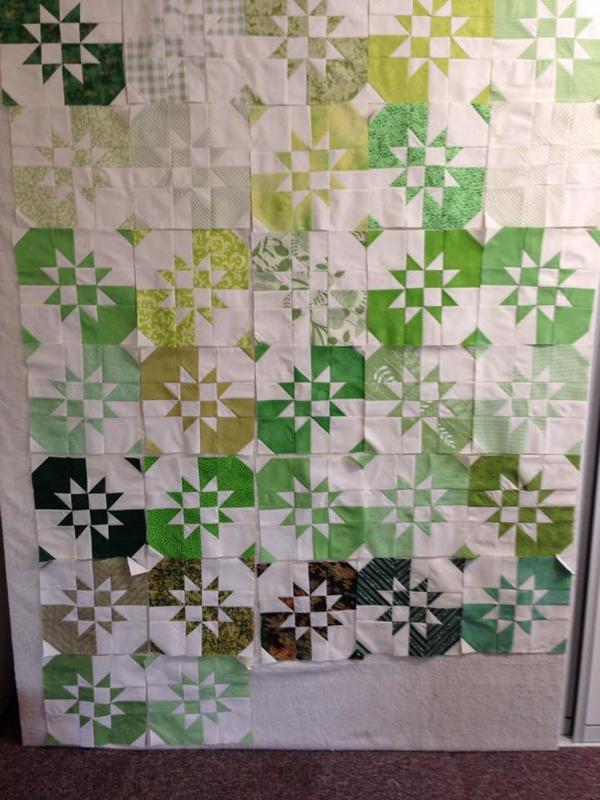 Alternate arrangement for the block
I really really like it. Its not as busy as the other arrangement. I liked the idea of sashing because it was less busy and I love the cream spaces. This has the cream spaces but also has some interesting secondary patterns. I think I will do this one. I am going to do another 14 or so which will mean that I can swap out some of the blocks I am not so happy with particularly the one on the far right of the 2nd row. Its so pale it is reading white/cream
I have cut up the cream fabric and have selected 14 green squares from my stash so am right to go. Not sure when I will get to make them though... would love to get them made before I leave next week but we shall see.
Tea Shop Applique quilt.
I have made up all the blocks I had traced off. Working out how many more I will need to do to have enough for a quilt. I was figuring out alternatives in my design book the other day but haven't reached any conclusions.
My other project this week has been to get curtains made for Fangirl's new home. She officially took possession of it today. She and Fixit Guy spent a good bit of the afternoon putting together some of the furniture that she had bought and which got delivered today as well. They have been having fun with the directions... not always particularly clear. Tomorrow they are going to put up the curtain rails so I can hang the curtains and work out the hemline.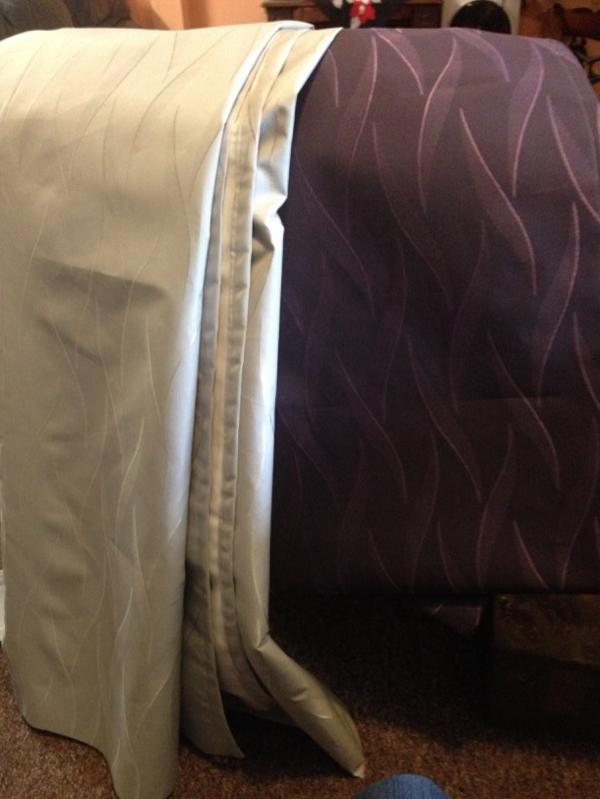 bedroom and loungeroom curtains
So that is my work in progress for this week. What have you been up to?
Linking up with