Last Saturday I wrote a list of my goals for July /August. However I am currently working on a project I didn't even mention there. Isn't that always the way. I feel like sneaking back in and updating them just so as to be able to add it in.
I am working on a green banner for church. I think its for church. Its definitely green! I'm trying to be creative and do a symbolic arty type one.My inspiration for the banner /wall hanging is the bush area I see when I walk down by the river most mornings and afternoons trying to get up my 10 000 steps and walking my dog. I think I should have taken a photo and worked off that .... its not quite coming out like I wanted it. I am using squares, rectangles and strips of green fabric to try to give the feeling of the mix of colours. So many greens. I've tentatively called it Riverwalk.... might give it a more biblical name if I come up with it.
Since I started the quilt I have been looking more carefully as I walk by the river and found that I have made a basic mistake. I put all the dark greens down the bottom. Its made a very distinct dark line. Now whilst walking I have realised that the bottom of any picture I try to frame up is the grass. Its not dark green. At the moment its light creams and tans and brown. The grass is all dried off. Even if I got up a bit further there isn't a dark line of green. The dark greens are scattered in amongst the other greens... its not arranged in a neat dark line. I am not going to unpick it though... no way. Its there now. I might applique something over it. I can add some fawns and creams and light greens to the bottom of the quilt, making the dark green line not quite the bottom. That would work I think. Alternatively I could put text there. The banners I have been making for church though haven't had words... just colours and shapes. Hmmmm Will have to consult with creative director (who happens to be our minister as well) She is the one who has inspired me to use my quilting gifts in worship. She gets the process.
I showed her the quilt when she called in today and she was very positive and admiring. I didn't tell her it was for church (maybe.) I have a few quilts that get hung in church as required but I still own them. I have some others that remain up at the church. After all where am I going to hang 5-6 m long banners? This one will be more like 2 metres long and a metre wide. This one I could hang at home if I wanted.
Here are some photos showing the progress to date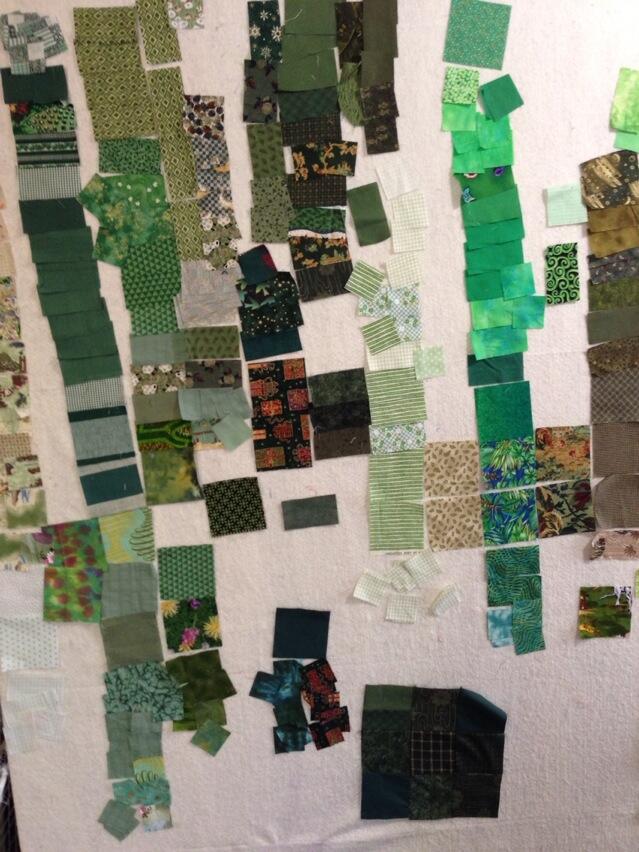 Laying out the colours for the quilt
Starting to put the quilt together
almost at the start of the light green
over half way now. Getting into the really light colours/